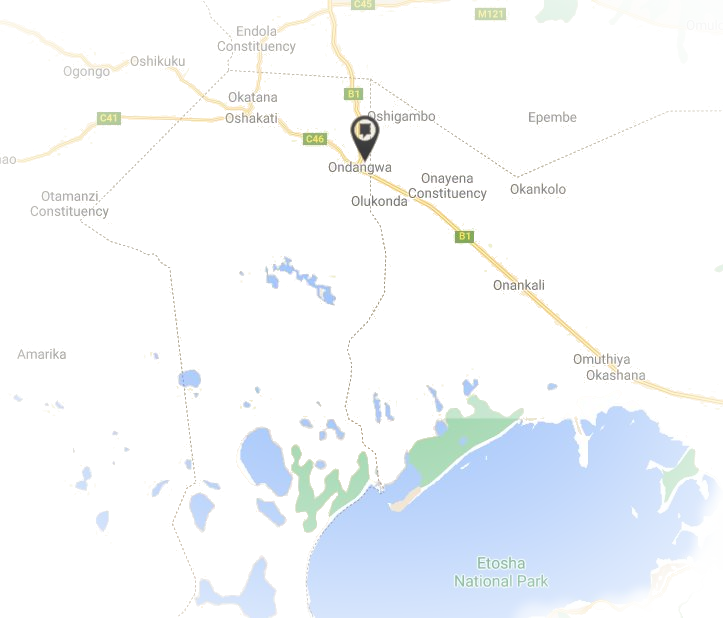 View Large Map
Ondangwa (earlier spelling Ondangua) is a town of 23,000 inhabitants in the Oshana Region of northern Namibia, bordering Oshikoto Region. Ondangwa was first established as a mission station of the Finnish Missionary Society (the FMS) in 1890. In 1914 it became a local seat of government.
Ondangwa is said to mean the end of the Ondonga area. (Ondonga is one of the kingdoms of Ovamboland), and Ondangwa is located on the western edge of this kingdom.
Ondangwa is located about 60 km (37 mi) from the Angolan border, along the B1. It is one of the places of residence of the Kings of Ondonga; the current King Eliphas Kauluma, father to the reigning king, lives here. Most of the residents of the town speak Oshindonga.
Ondangwa has a semi-arid climate (BSh, according to the Köppen climate classification), with hot summers and warm winters (with mild days and cool nights). The average annual precipitation is 448 mm (18 in), with rainfall occurring mainly during summer. In the unusual rainy season of 2010/2011 rainfall was over 1,000 millimetres (39 in), while in 2018/19 during the 2010s drought only 169 mm (6.7 in) of rain fell